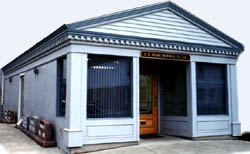 The George E. Hoare Memorial Company, Inc. has been designing memorials for families throughout New York State and Pennsylvania for over 115 years. They are committed to friendly, personalized service with guaranteed, quality memorials crafted in nature's finest granites.

The company was established in 1889 by George E. Hoare as an extremely high quality cemetery memorial dealership. George was a stone carver and principally the sole proprietor of the company. He operated the business until 1925 when he retired and his two sons John and Arthur joined the business. It was about this time the process of lettering granite adopted a whole new sandblasting method. To this point a letter was carved into granite using a steel chisel and wooden hammer, a very long and tedious process at best. The new sandblasting process involved a large air compressor, a specially fabricated steel room to sandblast the memorial in, special pressure sand blasting tanks, steel nozzles and dust collecting equipment. The process, although very fast as compared to lettering one letter at a time, involved an extremely large investment as it still does today. The two brothers purchased all the equipment and retrofitted the building to house it all in 1927. They were one of three memorial businesses in New York State to offer this capability.

Arthur and John operated the company until 1966 when John suddenly passed away . At that time, Robert L. Herzig was building memorials and mausoleums in Syracuse, New York, representing another progressive family firm. Robert always desired to own his own company, and through a common friend met Arthur C. Hoare. Robert decided to help Arthur run the firm and in 1967 Robert purchased the company. Robert and Arthur worked together until Arthur's retirement. Robert's son, David, joined the business in 1978 after attending the Stone Art School in Barre, Vermont and graduating from Syracuse University. Together they expanded the business, added sales people, and in 1983 purchased the long-established company of Raplee Memorials, in Elmira, New York. In 1989, the 100th anniversary of the company, a new shop was built, complete with ultra-modern computerized equipment. The new shop included roller conveyor systems, two sandblast rooms, large air compressors and automated abrasive handling systems. Later, a new warehouse was integrated that houses approximately 1,800 pieces of granite.

The George E. Hoare Memorial Company, Inc. is still family operated principally by Robert and David and the quality that was integrated back in 1889 is still insisted upon today.